SPC地板 is a new type of environmentally friendly flooring material that has received widespread attention and recognition in the market due to its excellent performance. However, many people still have doubts about the quality of SPC floors. One of the more important questions is: Will SPC floors have an impact on indoor air quality?
After reading this, if you still have questions about SPC flooring, or want to find high-quality SPC地板, please contact yinuo to provide you with high-quality products and detailed quotations!
What is SPC flooring?
SPC flooring, the full name of Stone Plastic Composite Flooring, is an environmentally friendly flooring material that uses stone powder and PVC resin as raw materials and is formed by high-temperature hot pressing. Compared with traditional PVC floors, SPC floors have higher hardness, better wear resistance and pressure resistance, and are also more environmentally friendly and healthy.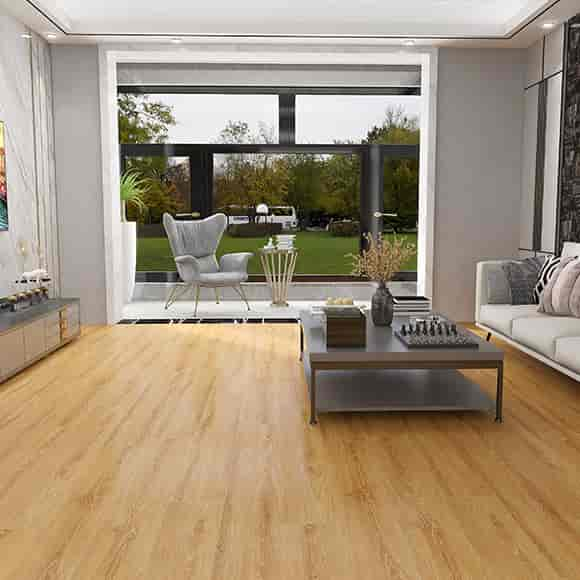 SPC地板对室内空气质量有影响吗?
Indoor air quality is a very important consideration when choosing flooring materials. So, does SPC flooring have any impact on indoor air quality? In fact, SPC flooring materials themselves are environmentally friendly and do not contain harmful substances such as formaldehyde, so they will not have a negative impact on indoor air quality. In addition, the surface covering of the SPC floor is UV coated, which has good dust-proof and anti-corrosion functions and can keep the floor surface clean and hygienic.
However, it should be noted that during the installation process of SPC flooring, due to the need to use glue or other adhesives, these chemicals may cause certain pollution to the indoor air. Therefore, when installing SPC flooring, you should choose environmentally friendly glue or minimize the use of adhesives, and turn on indoor ventilation after installation to eliminate possible chemical substances as soon as possible.
How long does it take for SPC flooring to dry after installation?
Generally speaking, SPC flooring needs to be allowed to dry for a period of time after installation to ensure that the floor is completely dry and any residual odors and chemicals are released. The specific drying time needs to be determined according to the actual situation, usually around 1-3 days. During this period, indoor ventilation should also be maintained as much as possible to promote the volatilization of chemicals and the circulation of indoor air.
In short, from the perspective of environmental protection and health, SPC flooring is an excellent floor material choice. As long as you pay attention to choosing environmentally friendly glue during the installation process, minimize the use of adhesives, and perform proper airing and ventilation after installation, you can ensure that the SPC floor will not have an impact on indoor air quality.